Carriage House Garage Doors
Model 6600
Made with two layers of steel, polyurethane foam insulation and DecaTrim™ II overlays, the Model 6600 is not only durable, but a unique way to add style and curb appeal to your home. With 16 different carriage house designs, you are sure to find the perfect garage door to complement your home.
Choose a Panel Design
Garage Door Model 6600 offers a variety of beautiful carriage house designs with either arched or square top styles.
















This garage door is available in all white or two-toned in the following four colors. For two-toned doors, the trim is always white and the panel is either Almond, Taupe or Brown. Actual door colors may vary slightly from the website images due to fluctuations in the painting process.




Window patterns are shown for a typical single-car door. Spacing of windows may change depending on door size. Not all windows are available in all door sizes.
Standard
The following standard window options feature a smooth DecaTrim™ ll overlay board to match the door's design.






Optional (for cold environments)
For northern regions with extreme cold environments, the following upgraded windows are strongly recommended.
These windows include two plastic frames that provide an extra seal to protect the door section from harsh weather conditions. Optional 1/2" insulated glass is also available.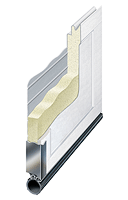 With and insulation R-value of 12.12, this door can improve the thermal efficiency of your home, block street noise and make the door operate more quietly.
Smooth overlay boards that are specially treated to resist termites, weather and fungal decay.
Snug-fitting section joints reduce wind and weather from entering the garage.
14 gauge hinges provide add strength, stability and smoother door operation.
Ball-bearing rollers with nylon wheels and solid steel shafts provide years of smooth, quiet and dependable service.
Available with optional hardware and reinforcements for high-wind regions.

Available with optional hardware and reinforcements for high-wind regions.