Elite Series - LiftMaster 8550W
DC Battery Backup Belt Drive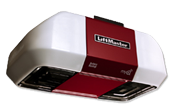 The first Wi-Fi Garage Door Opener makes control from your smartphone reassuring and simple. The 8550W comes fully equipped with Security+ 2.0®, MyQ® Technology, Battery Backup and the Timer-to-Close feature. 
Take convenience and safety to a whole new level with the LiftMaster® 8550W. The reliable, integrated Battery Backup System guarantees access in and out of your garage, even when the power is out. The safety and security features will continue to operate as well, ensuring your family is protected in a power failure. The opener is also equipped with built-in MyQ™ technology, enabling you to close your garage door or turn lights on or off using a smartphone or computer - from anywhere in the world. And because it features soft start and slow stop to reduce noise when it operates, it is perfect for homes with a room above the garage.
To reduce the risk of injury to persons - When the LiftMaster Internet Gateway™ is used with garage door openers, the operator must be installed with sectional doors.


Included Accessories

880LM Smart Control Panel®

Light the way with our 3-button premium remote control.

Bright blue LED buttons make night operation easy, and with our MyQ™ enabled light accessories you can turn on house lights right from your car.

893MAX 3-Button Premium Remote Control

This powerful multi-door control can operate up to 3 garage door openers, gate operators, or MyQ® enabled light accessories. Plus, it's compatible with all LiftMaster® garage door openers manufactured since 1993..

MyQ Technology now with Wi-Fi, enables secure monitoring and control of your garage door opener with a smartphone, tablet or computer.
Alerts can be received as email or pop-up (push) notifications on your mobile device, ensuring the status of the garage door.
MyQ mobile app is a free download requiring no annual activation fee.
P3™ Motors provide proven reliability and durability.
DC Motor Belt System delivers powerful, ultra-quiet performance.
Battery Backup ensures access to your garage when the power goes out.
Dependable warranty includes lifetime coverage of motor and belt, five (5) years on parts and one (1) year on battery.
SAFETY & SECURITY FEATURES
Security+ 2.0® safeguards garage access – with every click a new code is sent to the garage door opener ensuring the door does not inadvertently open.
PosiLock® locks down the door by electronically monitoring against a forced opening.
Timer-to-Close automatically closes the door after a pre-programmed number of minutes.
Alert-2-Close Warning System provides audible and visual warnings when a garage door is about to close when using MyQ Technology or Timer-to-Close.
Motion Detector is integrated into control panel providing rapid detection and illumination of garage.
The Protector System® incorporates safety sensors which emit an invisible light beam across the garage door opening, automatically reversing the door if an object interrupts the beam.
WARRANTY
Lifetime motor and belt warranty
5-year parts warranty
1-year warranty on Battery Backup