Premium Series - LiftMaster 8365W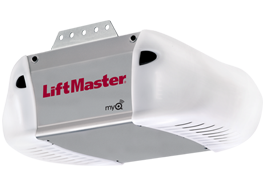 1/2 HP Chain Drive Garage Door Opener


With its rugged reliability and exceptional all-around performance, the 8365W-267 1/2 HP AC Chain Drive Wi-Fi® Garage Door Opener is the perfect choice if you want enhanced style, reliability, and the performance attributes of our best-selling drive system ever. Technology, and the Timer-to-Close system. Works with MyQ which provides included core features, including controlling your garage door from anywhere and subscription-based partner integrations. 

Safety and Security:
Security+ 2.0® safeguards garage access by sending a new code with every click.
PosiLock® electronically protects against forced openings.
Alert-2-Close signals when a door is being closed by MyQ®.
The Protector System® invisible light beam auto-reverses the door if there is an obstruction.
Included Accessories

893LM 3-Button Remote Control


This powerful multi-door control can operate 3 garage doors, gates or MyQ®-enabled lighting accessories. Plus, multi-frequency Security+ 2.0™ technology virtually eliminates interference.
877LM


Open or close your garage door without using a remote control or key. This wireless keyless entry system opens the door by a private 4-digit code you program directly into the unit.
882LMW


Our Multi-Function Control Panel operates the garage door opener and lights from inside the garage. It also allows for fast, easy programming of accessories with the new learn button. 

Connectivity:
Built-In Wi-Fi® for the easiest way to connect the garage.
MyQ Technology allows users to know their home is secure.
Real-Time Alerts indicate the status of the garage door via email or push notifications.
Monitor and Control the opener from anywhere using mobile devices.
Works with MyQ; core features that allow you to control your garage door from anywhere, get activity alerts and set schedules are included with the MyQ app.
Linking MyQ to partners apps to provide more enhanced garage control options such as voice control and geofence closing. Subscription fee applies after 30-day free trial ends. Visit liftmaster.com/mypartners for more details.
Performance:
1/2 HP AC Motor is purposefully designed and built to last.
Chain Drive system for steady performance and industrial strength.
Warranty lifetime motor, 1-year parts.
Liftmaster has taken your home security and safety a step further.

Lifetime Warranty

Lifetime motor and chain warranty plus 1-year parts warranty
To reduce the risk of injury to persons – When the LiftMaster Internet Gateway is used with garage door openers, the operator must be installed with sectional doors.