Advanced Trolley System Light-Duty Trolley Operator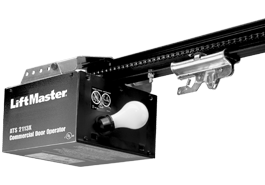 The Model ATS (Advanced Trolley System) Door Operator is designed for use on residential or light-duty commercial door applications with standard lift. For doors up to 14' high. Maximum recommended duty cycle: 8 cycles per hour. 





Automatic Safety Reverse/Automatic Soor Stop
Reverses door automatically if obstructed when going down, stops if obstructed when going up.

Manual Release With Auto-Reconnect Trolley
Manual release in case of power failure. When power is restored, a push of the button automatically reconnects the door and operator.

"I-Beam" Trolley Track
Industrial-strength heavy-duty steel "I-beam configuration for increased rigidity for 8', 10', 12' and 14' door heights, Full #48 chain drive.

The Protector System
Projects an invisible light Learn across garage door opening. If anything interrupts the beam while the door Is closing, door automatically reverses before making contact, if beam Is obstructed, door will not close.

Push Button Station
Momentary contact to open and close.






14' Center Support Bracket
Standard with 14' rail.. Optional on all other door sizes. Provides additional roll support on 14' doors.

Motor
High-torque, industrial 1/2 HP, 115V, single-phase motor with instant revere and automatic reset thermal overload.
115 volt 1 Ɵ.
Control the Open/Stop/Close sequencing needs for your door operation with a single button control (SBC).
Improve durability with the NEMA 1 type electrical box construction with a powdercoat finish.
Enable limit setting for ease of installation and adjustment to ensure accuracy even after a power failure.
Ensure peace of mind with a LiftMaster® 1-year warranty
SAFETY & SECURITY FEATURES
Compliant with all UL 325 requirements.
Accept up to 20 remote controls and unlimited DIP switch remote control with our Security+® radio technology.
Provide easy, emergency manual operation using a readily accessible disconnect.
The Protector System® Safety Sensors.
ROLLING CODE TECHNOLOGY
The ATS is equipped with a
Security+® Rolling Code Receiver:
With every activation, Security+®
transmits a brand-new code, one of over
100-billion codes, never to be repeated.
The ATS Security+® operator can
accommodate up to 8 Security+® remote
controls as well as 1 Security+® Keyless
Entry System. Ideal for multiple drivers.
(Remote controls are not included.)
LiftMaster offers optional Remote
Controls and a Keyless Entry System
with Security+® Anti-Burglary
Coding.