LiftMaster
3900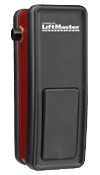 Light-Duty Commercial Jackshaft Operator for Sectional Doors
Model 3900 is a light-duty jackshaft operator for light-duty commercial sectional applications only. It features a compact design ideal for limited height, cathedral, or obstructed ceiling installations. It may be used on standard and high-lift (maximum 7 ft. high-lift) sectional doors measuring up to 14 ft. high and up to 18 ft. wide, but not exceeding 180 sq. ft. or 650 lbs.


STANDARD FEATURES
Optional Accessories
Power Door Lock:
Prevents the door from being manually forced open once fully closed.
EverCharge&reg Standby Power System:
Operates the door operator for up to 20 full cycles within a 24 hour period.


Alternate Mounting Kit:
Allows operator to be mounted below the torsion bar.

Remote Work Light:
Adds 200 watts of light with adjustable light time delay; unlimited number of lights can be added.
Keyless Entry:
Allows door to open or close by using a code programmed directly into the unit.
Motor: Heavy-duty 24VDC motor provides ultra-quiet operation, along with variable speed smooth start and stop
Compact Design: Ideal for limited height, cathedral, or obstructed celing installations; mounts mounts on the left or right side of door and attaches to the torsion bar
Push Button Station: 1-button station for OPEN & CLOSE functions with type B2 control wiring is standard for all operators. Controls with 1, 2 and 3 buttons are available
The Protector System® Safety Sensors: A "non-contact" photo safety sensor designed to sense an obstruction and signal the door operator to reverse to open
WARRANTY