LiftMaster 1355
1/2 HP Chain Drive Garage Door Opener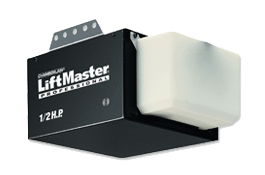 Value and reliability is what you'll get with the LiftMaster® 1355 1/2 HP Chain Drive Garage Door Opener. Its durable 1/2 HP motor and chain drive give it strong lifting power and steady performance. Part of the Contractor Series, it is the choice for value and reliability.



This model has earned the Good Housekeeping seal. Click here to learn more.
Included Accessories
371LM Single-Button Remote Control
Get additional access and security with our single-button

remote control. Use it to open and close a single garage door or gate, or as an extra remote to turn interior lights and small appliances on inside your home.
The Smart Garage Door Opener® lets you electronically program security codes from a control panel
or the powerhead
Delivers 75 watts of light with adjustable light time delay
Meets all UL325 requirements
SAFETY & SECURITY FEATURES
The Protector System® safety sensors project an invisible light beam across the garage door opening and automatically reverse the door if anything interrupts the beam while the door is going down
Sensing technology will stop the door from closing if contact is made with a person or object
Opener lights turns on automatically when The Protector System's infrared beam is interrupted
Security+® rolling code technology assures a new code is sent every time the remote control is used
Patented PosiLock® system ensures the door remains securely locked when the garage door is closed
Manual release handle in case of power failure
WARRANTY
4-year motor warranty
1-year parts warranty