Premium Series - LiftMaster 8365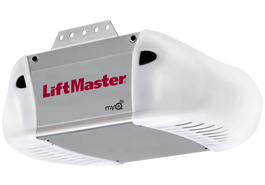 1/2 HP Chain Drive Garage Door Opener


Smart, Safe and Quiet

LiftMaster® Introduces the new 8365 Chain Drive Garage Door Opener with MyQ® technology


Smart Control. MyQ® technology allows you to open, close and monitor your garage door and house lights via smartphone, tablet or computer from anywhere, any time. (LiftMaster® Internet Gateway required; sold separately.)
Safety and Security:
Safeguard your household with Security+ 2.0™- with every click, a new code is sent to the Garage Door Opener, so the door opens only for you.
Stay out of harms way with audio and visual warnings when the garage door is about to close.
Prevent the door from closing if anything interrupts the safety beam that crosses the garage door opening.
Lock down your garage door and against a forced opening with PosiLock®.
Included Accessories

893LM 3-Button Remote Control


This powerful multi-door control can operate 3 garage doors, gates or MyQ®-enabled lighting accessories. Plus, multi-frequency Security+ 2.0™ technology virtually eliminates interference.
877LM


Open or close your garage door without using a remote control or key. This wireless keyless entry system opens the door by a private 4-digit code you program directly into the unit.
Connectivity:
Confidently know what's going on at home with MyQ® Technology. It lets you monitor and control your Garage Door Opener and home lighting from anywhere (when paired with the Internet Gateway).
Receive email or text alerts so you always know the status of your garage door and home lighting.
Download the MyQ® mobile app for free. No annual activation fee required. 
Performance:
Rely on durable and powerful performance with our P3 Motors™, which are specifically built for use in Garage Door Openers.
Appreciate years of reliable, maintenance-free service from our industrial-strength Chain Drive System.
Consume up to 75% less power in standby mode.
Have peace of mind with our Lifetime motor and one-year parts warranties.
Liftmaster has taken your home security and safety a step further.

Lifetime Warranty

Lifetime motor and chain warranty plus 1-year parts warranty
To reduce the risk of injury to persons – When the LiftMaster Internet Gateway is used with garage door openers, the operator must be installed with sectional doors.